School is already back in full swing for Direct Residential Communities' residents! With all the craziness that comes with starting a new school year, the last thing you need is stress concerning your child's nutrition. Research shows that students who are full at school are more likely to have improved attention span and better social conduct, and those who eat more nutrient-dense foods "display more efficient problem-solving skills, greater fact comprehension, and stronger mental recall." Luckily, there are many stress-free snacks to make ahead of time so you don't feel rushed in the morning while ensuring your child receives the nutrients and fuel they need for the day. Try out these easy and healthy snack ideas to keep your child energized and ready to learn throughout the school day!
DIY Snack Kits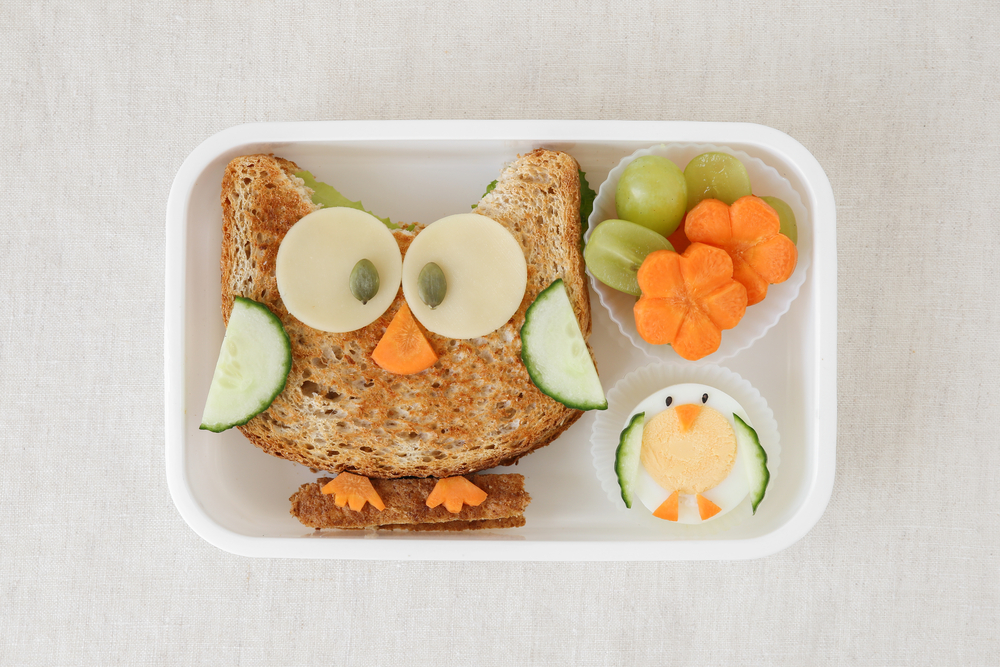 Put those cookie cutters to good use! Make your own DIY Snack Kit to fit your child's palate with ingredients like whole grain bread, crackers, cheese, grapes, and more. Whole grain bread and crackers, especially ones that are made from seeds, contain healthy fats, fiber, and protein. Sliced grapes contain antioxidants, vitamins B, C, and K, and potassium. As for cheese, choose a cheese that you know your child enjoys, such as mild cheddar or Swiss. Cheese is a great source of calcium, protein, healthy fats, and vitamins A and B12. This is a guaranteed inexpensive and fun snack your student will love!
Rice Cakes with Apples and Peanut Butter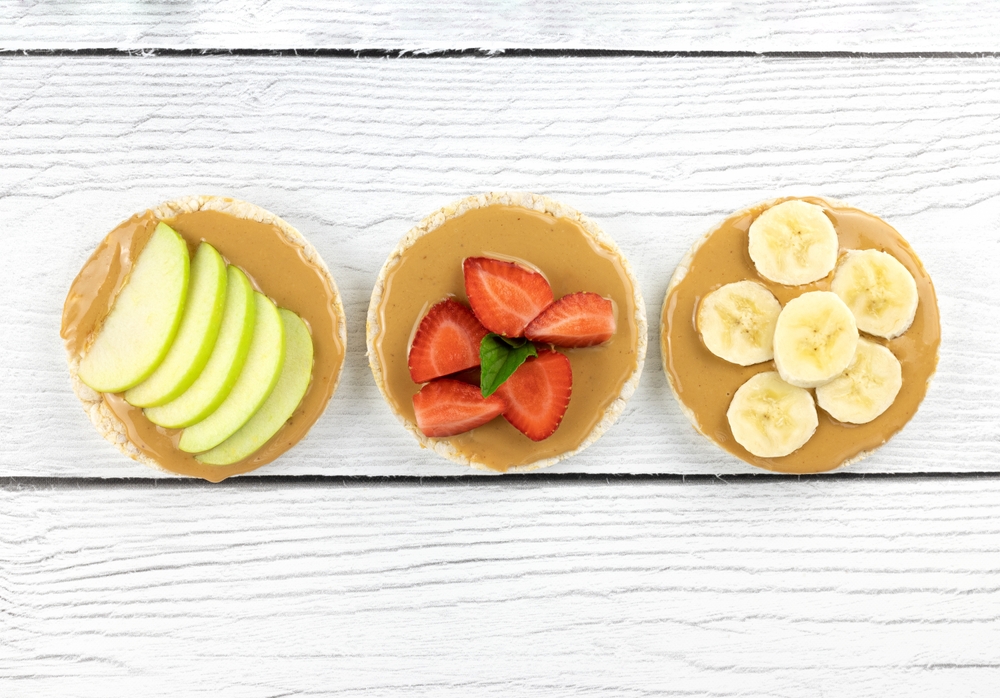 This perfect combination of sweet, salty, and crunchy is a snack that will keep your student satiated throughout the day. Rice cakes contain complex carbohydrates and fiber, and whole-grain rice cakes provide even more nutritional value. Peanut butter contains nutrients like vitamin E, magnesium, B6, and potassium. When choosing your peanut butter, opt for natural peanut butter instead of processed to retain natural healthy oils and fats. If your school has a no-nut policy, sunflower seed butter is a great alternative! Apples, like many other fruits, supply antioxidants, a high amount of fiber, vitamin C, and have anti-inflammatory benefits. Make sure to leave the skin on – it's loaded with antioxidants and healthy fatty acids.
Pro tip: change out the apples for strawberries or bananas to savor an equally refreshing, delicious combination!
Hummus with Veggies and Pita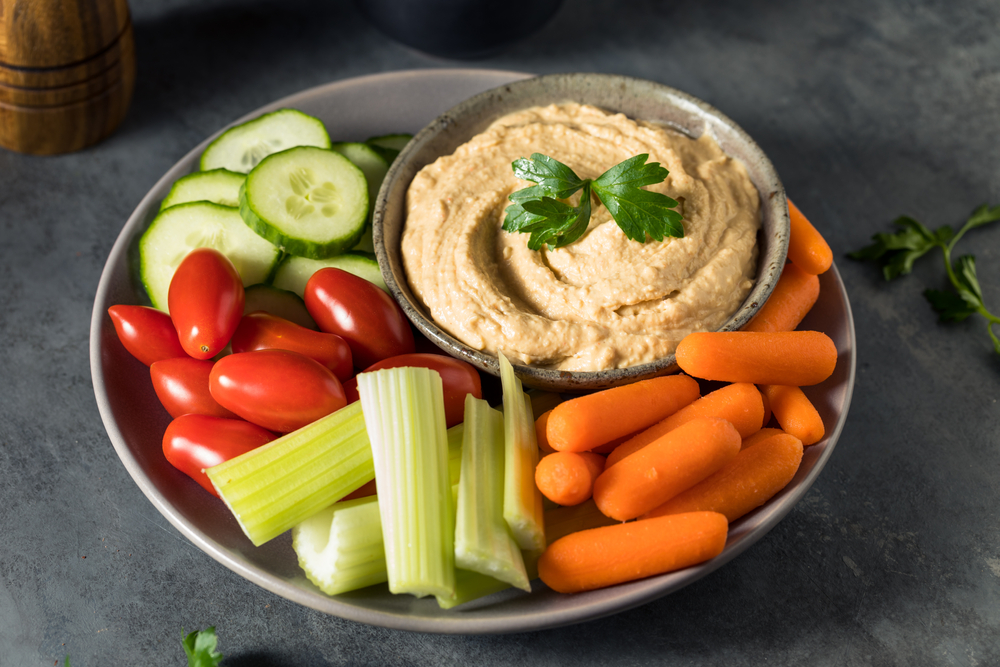 Would you like a savory, refreshing snack to combat the summer heat? Pack your hardworking student's favorite vegetables and pita with hummus for a snack! Vegetables that go well with pita include bell peppers, cucumbers, carrots, and celery. Celery and carrots help keep your child hydrated since they're made up of over 90% water. Protein and fiber are found in pita, and vegetables like bell peppers are full of vitamin C, vitamin A, and potassium. Hummus is a quality source of iron and plant-based protein packed with fiber and healthy fats and is also a healthier alternative to ranch dressing. You can even cut up the veggies the night before to make the morning a breeze!
Greek Yogurt and Granola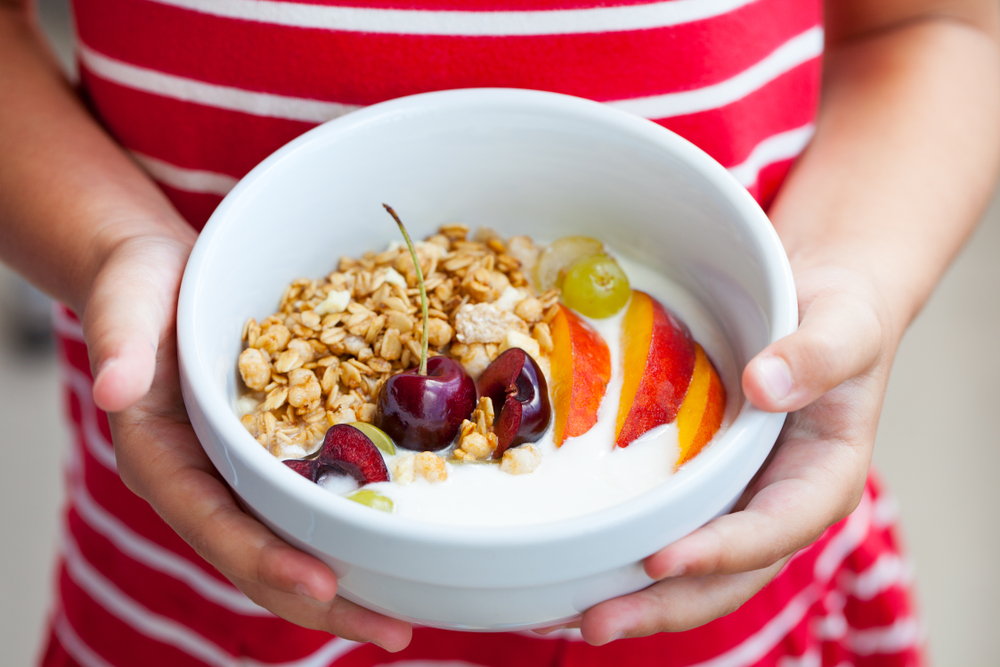 This snack is especially great for kids who  need extra digestive support. Greek yogurt has probiotics that aid digestion, and granola provides antioxidants, fiber, calcium, and iron. You can choose different Greek yogurt flavors, like vanilla or strawberry, depending on what your child likes. Additionally, feel free to get creative with picking various granola flavors, like honey oat, chocolate chia, and blueberry cinnamon! Add some sliced strawberries or bananas, local honey, or a handful of fresh blueberries for even more vitamins, minerals, and flavor. Local honey can also boost your immune system, making it great for allergy season. This easy, healthy snack has endless options, so you can best customize it to your child's preferences.
Sweet and Salty Trail Mix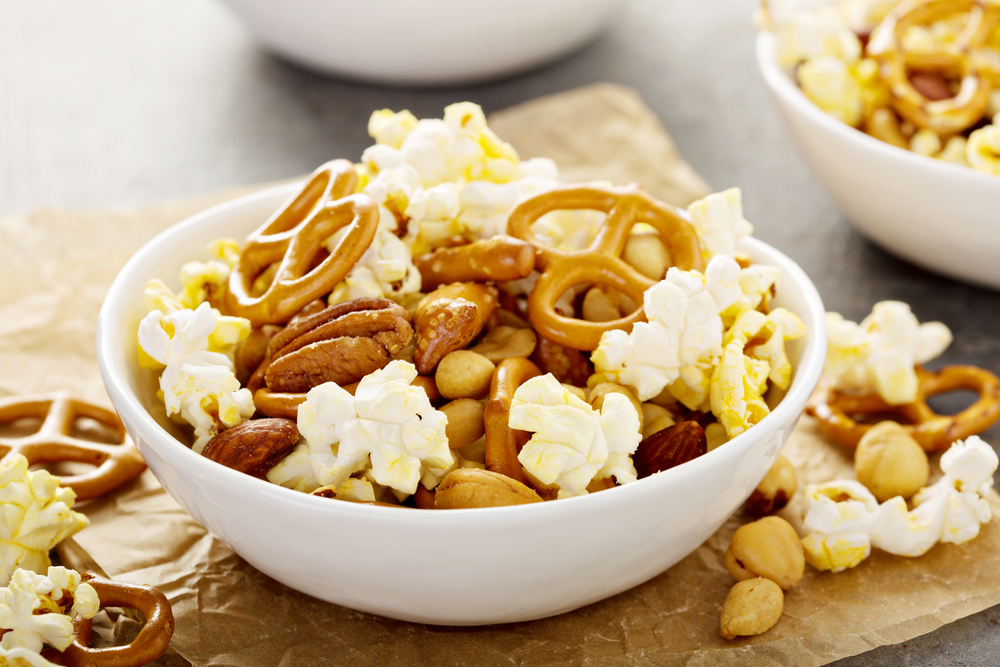 Try making your version of a sweet and salty trail mix! Combine various ingredients like popcorn, pretzels, dried fruit, nuts, and seeds for healthy grains, fats, fiber, and antioxidants. Feel free to add in dark chocolate as well for even more nutrients! This is an excellent snack for busy parents because you can make it the day before, and it doesn't need to be refrigerated. Customize your trail mix by choosing different nuts your kids like, such as pistachios, walnuts, pecans, or almonds. For dried fruit, craisins tend to be a bit easier on the palate than raisins, and you can even incorporate different dried fruits like dried mangos, apricots, and coconut. Check out this high-protein trail mix recipe for some inspiration.
Find Your Home at Direct Residential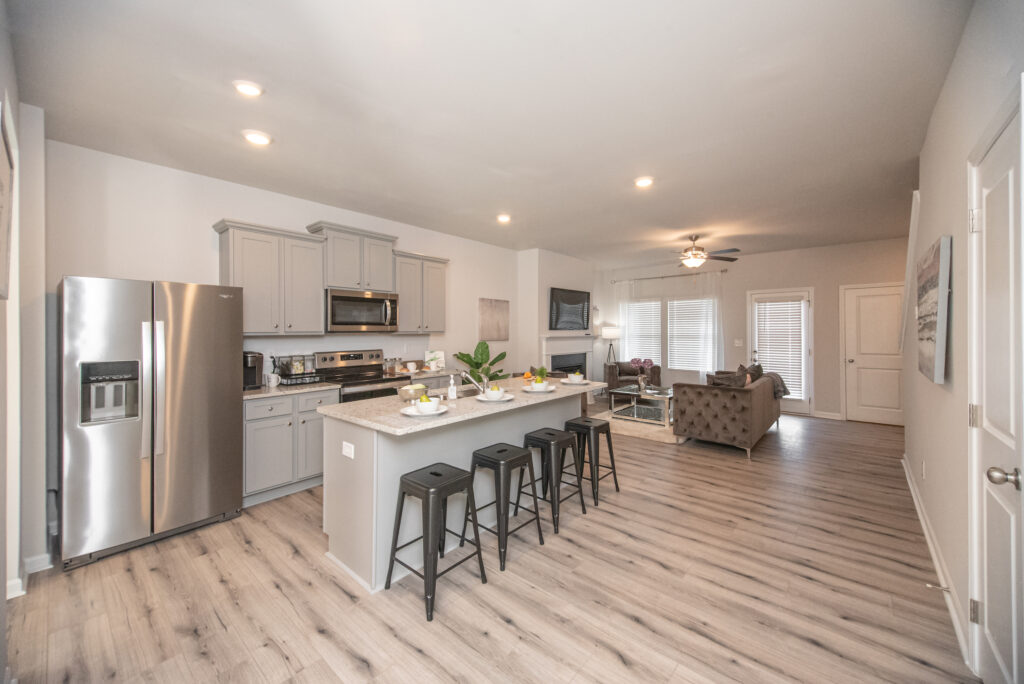 Easing back into a new school year is better at Direct Residential Communities. After you try out these easy and healthy snacks with your student, make your next move to one of our beautiful communities! With over 50 years of experience in homebuilding, we use our expertise to seamlessly combine affordability, quality, and desirable locations to give you the best homebuying experience. Contact an agent today to tour one of our Metro Atlanta neighborhoods, and let us guide you home!